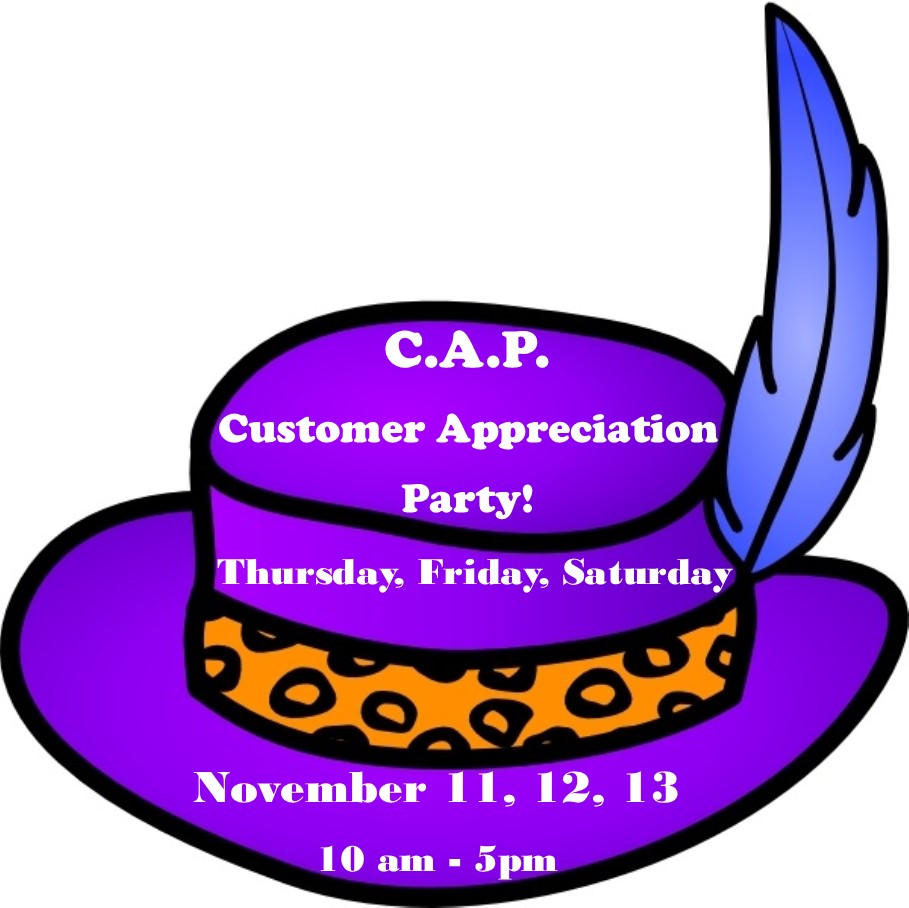 We want to thank all our wonderful customers with a party!
The C.A.P., aka Customer Appreciation Party is Thursday-Saturday, November 11-13, 10 am – 5 pm.
We really appreciate your support during the past year and a half of Covid. It was wonderful seeing so many shop hoppers also. We wouldn't be here without you!
Wear a cap to the C.A.P. party and get a free 2 1/2″ x 6 1/2″ ruler! With each $20 purchase, get your name into a drawing for great prizes! Daily prizes are:
November 11: Granny's Legacy 17 1/2″ x 24″ Wool Mat plus Spray Bottle – $92 value
November 12: Gudrun Erla's Stripology XL Ruler and Stripology Mixology 2 book – $98 value
November 13: $100 Gift Card to Quilt Haven on Main
Grand Prize:
Martelli 24″ x 36″ Cutting Mat, Quilters Select Rotary Cutter & Quilters Select 6 1/2″ x 24″ ruler – $~220 value
Party bonus: Marcia's sugar cookies!!
One prize per person. Need not be present to win. Drawings will be held at the end of each day. Winners will be posted to our Facebook page the following week.
Hope to see you at the C.A.P! Thank you for your business!