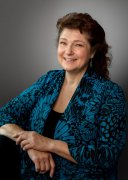 We are excited to have Page Johnson here to help us celebrate our anniversary! Page is a 'Full-time, Quilt for Hire, Professional Long Armer". She has been selected as the Quilter of the Year at the  Minnesota Quilters Show. She has been quilting professionally since 2000. Page's lecture is titled, 'A Quilter's Sentimental Journey – Listening to the Quilt'. Join her as she takes a trip down memory lane with a tour of several stunning quilts. She will discuss the thought process behind the designs, the issues she had to overcome and what she learned from each project. See the before and after pictures, what was done and redone. Discover the difference between custom and CUSTOM. Precision quilting of the highest quality requires a different skill and mind set. Page has earned numerous national ribbons on customer quilts. She will share her tips and tricks to high end quilting. An extensive power point presentation allows you to view the award winners "close up". Find out the answer to "How Did You Do That?" starting with the design concept and continuing down to the details. Page will discuss design elements including thread and batting options, motif choices and design placement, stitch density and travel paths, including overall unification and the directional eye movement effect. Let her journey help you to listen more closely to what the quilt is saying. This class changes and evolves with each new quilt.
Several award-winning quilts will be on display.
Call 320 587 8341 to register for Page's lecture and trunk show.