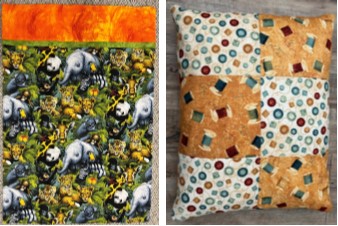 Calling all kids ages 8 years and up. Come join us for two fun days of sewing. You'll need a sewing machine that works, a few other sewing supplies, and a sack lunch. You'll go home with a pillowcase and a patchwork travel pillow. If you are under age 12, bring along an adult who knows how to use your sewing machine. Call the shop at 320-587-8341 to sign up.
Supplies for Pillowcase:   (approx. $15)
3/4 yd fabric for body
1/3 yard coordinating fabric for cuff
1/8 yd accent fabric for trim (optional)
Supplies for Quilted Patchwork Travel Pillow:  (approx. $17)
12' x 16' pillow form
2 fat quarters coordinating fabric
muslin lining (provided)
batting (provided)
General Sewing Supplies to bring:
Sewing machine in working order, foot pedal, machine manual, small scissors thread to coordinate with projects, 80/12 or 90/14 machine needles, straight pins,
seam ripper.